I remember my mom making these with her cookie press when we were little and I love that I can still make these in my own kitchen. I love using my Goodwill-find, unused Wilton Cookie Press for $2 (score!!) and a photocopied page from
Betty Crocker's 1963 Cooky Book
. See, my mother won't give me her Cooky Book, just make copies of the pages I need for any given project (*ack! Christmas gift! cegchhhhh ack!*).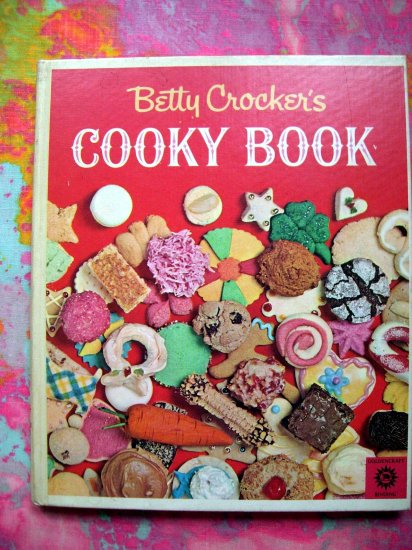 This was the first time I used my new Wilton cookie press and I absolutely love it! Unlike my mom's, this one is just like a caulk gun and dispenses the perfect amount of dough with each squeeze. My mom's press may be metal as opposed to my plastic version, but it also requires a precise quarter to one half turn per cookie to dispense the dough. I had issues getting approximately the same amount of dough to dispense for each cookie using her press, so (no offense, mom) I am glad I have one that is friendly for the baking-challenged.
I will now transcribe what Ms. Betty Crocker herself describes as "How to Make Perfect Pressed Cookies."
Mix dough as directed - doughs for pressed cookies are high in shortening. Dough must be pliable. If very warm, chill for a short time. (If too cold, it crumbles.) Using 1/4 at a time, place dough in cooky press. Force dough through cooky press, following manufacturers' directions, on ungreased baking sheet. If baking sheet is too warm, fat in the dough will melt and cookies will pull away from sheet when press is lifted. Bake until set. Perfect pressed cookies have:
1 C butter or margarine
1/2 C sugar
1 egg
1/2 tsp salt
1 tsp flavoring (almond or vanilla)
2 1/4 C flour
Preheat oven to 400 degrees.
Mix butter, sugar, egg, salt and flavoring thoroughly.
Work in flour. Using small amounts of dough at a time, force through the cooky press onto an ungreased baking sheet in desired shapes.
Bake 6-9 minutes, or until set but not brown.
I'm linking to
The DIY Showoff's Show & Tell Holiday Food Edition
.